Donation Land Claim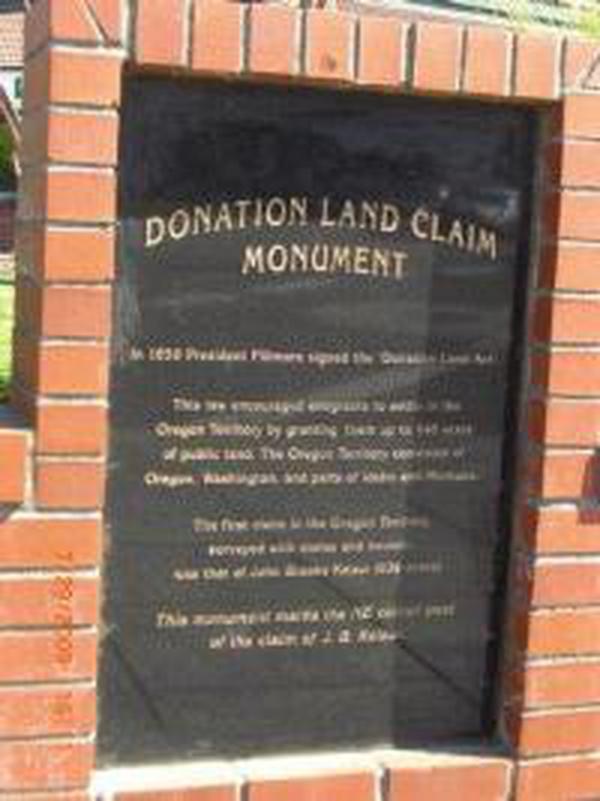 The Keizurs and most of the immigrants of 1843 left Independence, Missouri with the assurance that there would be "free" land in Oregon. While the Keizurs were on the trail to Oregon, however, the proposed law failed to pass in the house. They did not hear of this turn of events until they reached Champoeg, nearly at the end of their journey.

The newly formed Provisional Government of Oregon, however, passed their own Land Laws because they were unsure when Congress would finally pass a Land Act and they wanted to restrict land speculation. The Donation Land Claim Act finally passed Congress in September of 1850. Its purpose was to promote homestead settlement in the Oregon Territory which consisted of the present day states of Washington, Oregon, Idaho and part of Montana. The lawmakers hoped to entice and reward early emigrants and at the same time help resolve the question of sovereignty between England and America.

The law granted 320 acres to every unmarried white male citizen eighteen or older and 640 acres to every married couple arriving in the Oregon Territory before December 1, 1850. Settlers arriving later would receive only half that amount of land. In the case of married couples the wife owned half the claim in her own name. This law was one of the first to grant married women land ownership. Claimants were required to live on the land and cultivate it for four years to own it outright.

After wintering on the west side of the Willamette River in 1843, the Keizurs re-crossed the river at the rapids that would bear their name. Here they took up land claims under the Land Act of the Provisional Government. These claims were later filed under the Donation Land Act of 1850, although the claims may have been slightly modified. The claim of Thomas Dove Keizur contained 608.47 acres and was bounded to the west by the Willamette River at the location of the Keizer Rapids (Current site of the Keizer Rapids Regional Park) to River Road on the east. The north boundary is now Cummings Lane (the first road cut from the River to River Road by the Keizurs).

A total of 7,437 claims were made under the Donation Land Act prior to its expiration on December 1, 1955.