Report Pollution
Protect our Water – Report Pollution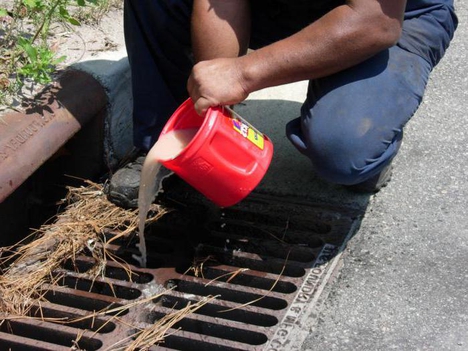 Throughout Keizer is a vast system of storm drains, vegetated stormwater facilities like those grassy patches along the highway, pipes and outfalls designed to drain our roads and parking lots when it rains. This stormwater system is incredibly effective at reducing flooding and protecting property, but it is also a one-way ticket for pollutants to enter the Willamette River, Labish or Claggett Creek, or even into our groundwater.
Please help protect our waters by reporting pollution. Whether it's accidental or intentional, pollutants such as paint, car oil, cooking oil, fertilizers, and pesticides that enter the stormwater system end up in our local waterways. Pollution also includes some things you may not expect, such as yard clippings and wash water. Anything other than rain going down the storm drain is considered an illicit discharge because it harms the water quality of rivers and groundwater. For specific information on what is considered an illicit discharge, please see the City's Stormwater Discharge Ordinance.
What Happens When I Report Pollution?
When you report pollution, a City employee will investigate the issue. We use maps and our knowledge of how water drains through the system to determine where pollution is going and try to stop it before it causes damage to the environment. We also have tools and methods to help determine the source of pollution and work to ensure it doesn't happen again.
There are several ways you can report pollution. Either call 503-856-3563 or 503-856-3424, fill out our Illicit Discharge Reporting Form online, or stop by City Hall to let us know what pollutant is potentially going into a storm drain and where it is so that we can clean it up. You will have to provide your contact information to City staff, but you may choose for City staff to keep your identity anonymous during our investigation.
Thank you for helping us protect our water from pollution.