K9 Unit
The Keizer Police Department has two K9 teams. Each team consists of an officer (handler) and a service dog (K9). In addition to their specialized training, each team is responsible for general patrol activities and functions the same as patrol officers. The teams work night shifts because that is where the greater needs are for their skills. Teams are required to obtain initial certification, re-certify annually with the Oregon Police Canine Association (OPCA), and receive weekly training to maintain proficiency.
The K9 Unit offers their services to neighboring communities for calls and assistance, such as the Salem Police Department and the Marion County Sheriff's Office in conjunction with inter-agency agreements. They also visit local schools and organizations and participate in community events to give presentations to educate the public about our K9 program.
Officer Scott Keniston has been with the department since 2007 and became a handler in 2009. He just recently certified with his new partner, Blitz. Blitz is a Belgian Malinois who was four years old when we obtained him in December 2021. Blitz's patrol duties include tracking and trailing, building and area searches, discarded article searches, suspect apprehension, and officer protection.
Officer Jeremy Darst has been with the department since he was 14 years old, serving as a cadet. He was hired as a full time officer in 2018. As a cadet, Officer Darst spent many hours working with the K9 teams as a decoy during weekly maintenance training and special events. That gave him a good head start and insight into the life of a K9 handler. Officer Darst was recently paired with K9 Max, a two year old German Shepherd Dog. The partners are currently attending a 6-week training and certification program. Upon completion of certification, they will perform the same duties as Officer Keniston and K9 Blitz.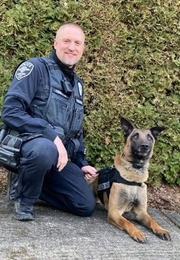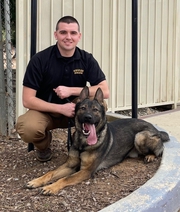 Officer Keniston and K9 Blitz Officer Darst and K9 Max