Medication Turn-In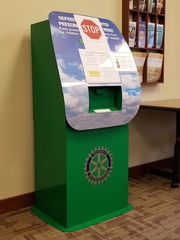 Improperly stored medications present a risk to household members. Improperly disposed drugs can be scavenged from garbage and abused. When drugs are flushed, they are not diluted by sewage treatment facilities or septic tank systems, thereby posing a risk to the environment. Studies have shown that drugs found in waterways have a serious impact on human and aquatic life.
The Keizer Police Department provides a drug disposal box in the lobby of the police department for use by community members during regular business hours, Monday through Friday, 8 am to 5 pm.
Accepted items
Prescription medications (including veterinary medicines)

Over-the-counter medication

Unknown tablets and capsules

Medication from deceased family members

Inhalers

Medication patches
All medication must be in leak-proof containers
No loose pills or tablets
Prohibited items
Liquids (including insulin)

Sharps (needles), EpiPens, insulin pens, lancets

Syringes

Samples and medicines from care homes and doctor offices*

Nutritional products, including vitamins

Medical waste

Thermometers

Personal hygiene products (shampoo, hair spray, deodorant, etc)

Bug repellant

Leaking liquid containers

Vaping devices

Plastic bags or trash
* Federal guidelines prohibit medications from pharmacies, medical clinics, physician offices, and assisted living/adult foster care facilities from using this service. Those entities must contract with a local garbage company for disposal service.
Please consult your local pharmacy or contact the Marion County Environmental Services Division for other disposal options.