Ben Miller Family Park
Address:
Alder Drive NE and Pleasantview Drive NE
Keizer, OR 97307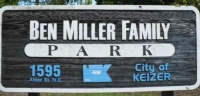 Purchased in 1995 from Elsie R. Mathews, the park was originally named Pleasant View Park. It was renamed to honor long-time Keizer volunteer and businessman Ben Miller and his family. Mr. Miller's donations of equipment and labor were instrumental in developing the park as it exists today. Miller and his wife Donna moved to Keizer in the early 1950s and raised their family (Randy, Robert and Wendy) in Keizer. Miller's sons continue to help with projects in Keizer.
2.5 acres

1 Barbeque grill

2 Picnic tables

Toddler play structure (ages 2-5)

Drinking fountain

Portable Toilet (seasonal)

On-Street parking